Vitalityplus1.com announces their new site carrying the best Green Star and Solo Star juicers and parts backed by years of research experience. Details can be found at https://vitalityplus1.com.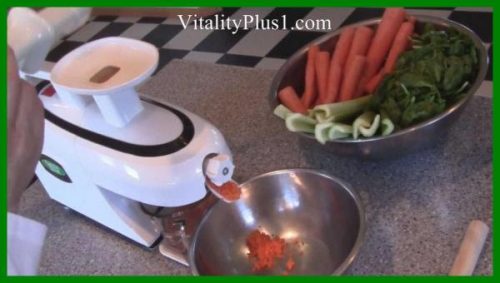 Jamestown, United States - February 19, 2018 /PressCable/ —
February 19, 2018: Great news has arrived for everyone who loves to make fresh juices at home or work as the ultimate online store for juicers has released an all new website. The updated Vitalityplus1.com website was basically completed in 2017 and it is now mobile friendly and has many new features. Moreover, customers from all across the United States have congratulated the company upon giving its website this unique update and the site is becoming the number one destination for everyone who loves Green Star Juicers along with several other leading options in the market. The list of notable items carried are Green Star/Green Power Juicers, Green Star Elite Juicer, Green Star Juice extractors, 220 Volt Blenders, Solo Star Juicers, and an extra large selection of juicer parts.
"We take pride in carrying only the best juicers available in the market on our website and we are very grateful to our valued customers because the number of sales is increasing every day." Said the site owner and spokesperson of the new Vitalityplus1.com website, Bryon Nevius, while introducing the site and its great selection to the public, including Green Power Juicers and the other juicers listed. "We are welcoming juicer manufacturers and distributors to use this online platform to sell their juicers because we have a dedicated base of customers, who have taken this online marketplace to the next level." He added.
Green Star 5000 Elite Juice Extractor Demo https://youtu.be/wNElHd8PV-c
"You have a superb website and anyone who buys a Green Star from anyone besides you is making a big mistake. Sincere best wishes for a healthy and prosperous New Year." Said Robert P., one of the many satisfied regular customers of the company in his New Year message in a letter. Besides Robert, many other regular customers have also congratulated the company on this new website that helps them decide about their new juicer and Green Star Juice extractors with ease.
Besides many of its new features including a mobile friendly interface, highly secure and protected framework, the updated Vitalityplus1.com site is also much more user friendly, allowing the customer to navigate around a bit easier. The thing that really makes this web site stand out from the others is the fact the company only sells products like the Green Star Juicers and Solo Star Juicers, that have been personally used by these experts and that is from 22 years of research, trying to obtain the best health possible. Many web sites sell many different types of juicers, blenders, dehydrators and more and there is a lot of bad choices when it comes to some of those..
Those interested in learning more about the business can do so on the business website at Vitalityplus1.com.
Contact Info:
Name: Bryon Nevius
Email: administrator@vitalityplus1.com
Organization: Vitalityplus1.com
Address: 21355 Highway 179 , Jamestown, Missouri 65046, United States
Phone: +1-660-849-2133
For more information, please visit https://vitalityplus1.com/
Source: PressCable
Release ID: 302091